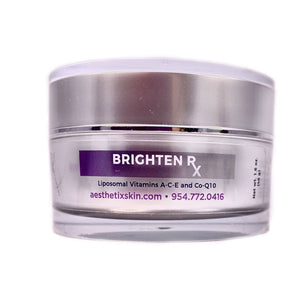 Optimizing the benefits of ultra-pure crystalline 20% glycolic acid and antioxidants to exfoliate and smooth the skin,  BrightenRx gently exfoliates dead and dull skin cells to deliver a smoother, softer, brighter, healthier looking complexion.
A perfect complement to skin lightening therapy, this formulation is enhanced with Vitamins A, C, E, Green Tea and CoQ10 to nourish the skin while providing antioxidant protection from free radicals.
Drying with a matte-finish, our physician formulated moisturizer is Non-Comedogenic, and is Paraben, Gluten, Oil and Fragrance-free.
Skin Types:  Acne, Aging, Keratosis Pilaris, Dry to Normal.