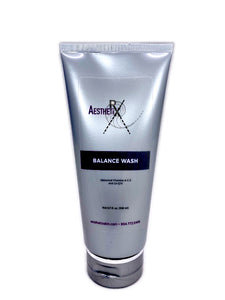 Luxuriously moisturizing ultrapure glycolic 10% cleanser gently exfoliates with naturally occuring Alpha Hydroxy Acid (AHA).  This creamy cleanser brightens your skin, revealing a smooth and radiant complexion.
The AesthetiRX formulation contains a rich blend of antioxidants including vitamins A, C, E, Green Tea and CoQ10 delivered in an ultra pure crystalline glycolic acid with pH of 4.0 which provides maximum efficacy with minimal irritation.
Skin Types:  Dull, sun damaged skin; Combination Acne Skin Types; Rosacea; Mature Skin; Dehydrated Skin; Combination Skin; Aging Prevention.